Who we are
The HCor Research Institute was launched in 2007. Since the beginning, it was designed to have as major differentials the development, execution and publication of large-scale and high-impact clinical studies.
The studies elaborated by the HCor Research Institute have always focused on topics such as: clinical impact, national and international guidelines modifications, influence on health polices, clinical practice improvement, immediate practical applicability within the scenario of priority diseases prevention and treatment.

HCor Research Institute Highlights
PROADI-SUS

In 2008 it was signed a partnership between the HCor Research Institute and the Ministry of Health – BR through PROADI-SUS, favoring the development of large studies focused on public health issues.

ACT STUDY

After the ACT study presentation in 2010 at the Late Breaking Trials session of the American Heart Association (AHA) Congress, the American guidelines no longer recommended the use of acetylcysteine for contrast-induced renal injury prevention. This was the first study created and coordinated by the HCor Research Institute.

REAL WORD EVIDENCE

Recognizing the importance of generating evidences coming from the real world (Real World Evidence), the HCor Research Institute explores research designs that meet this need. On that way, we seek both the continuous improvement in the conduction of clinical practice registries in partnership with Medical Societies as well as more innovative designs such as cluster-randomized clinical trials.

BRIDGE-ACS STUDY

With innovative methodology, the BRIDGE-ACS study demonstrated that a behavioral intervention applied to the healthcare teams improves the quality of care to patients with acute myocardial infarction. The results were presented in 2012 at the Late Breaking Clinical Trials session of the American College of Cardiology ACC Congress, with simultaneous publication in JAMA (The Journal of the American Medical Association). From this on the research line of clinical practice improvement through randomized clusters studies was consolidated.

CHECKLIST-ICU

The CHECKLIST-ICU study that tested the daily checklists effect on assisting the multi professional team aiming care improvement at the intensive care units was the study that consolidated the HCor Research Institute Intensive Care area. It was presented at the Hot Topics Session of the European Society of Intensive Care and Emergency Medicine congress and published in JAMA in 2015.
HCor Research Institute Collaborative Network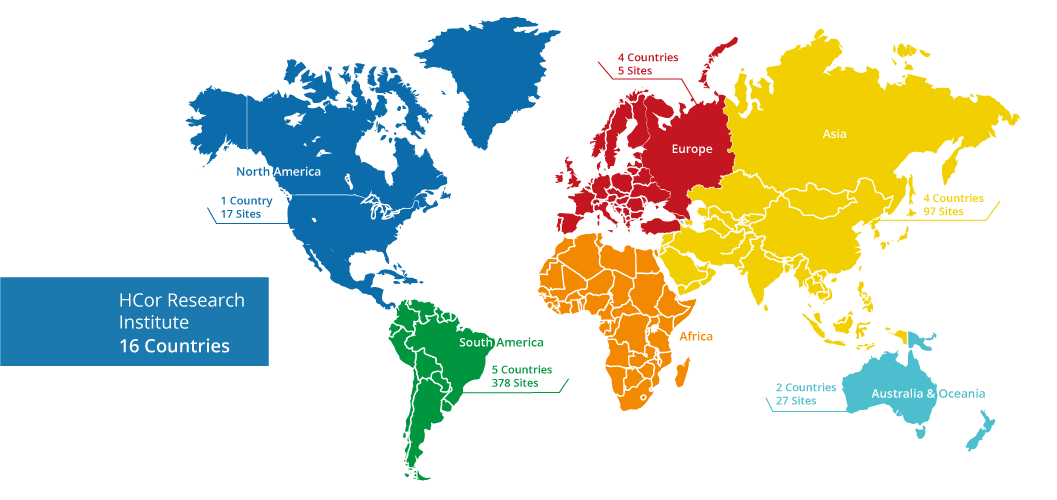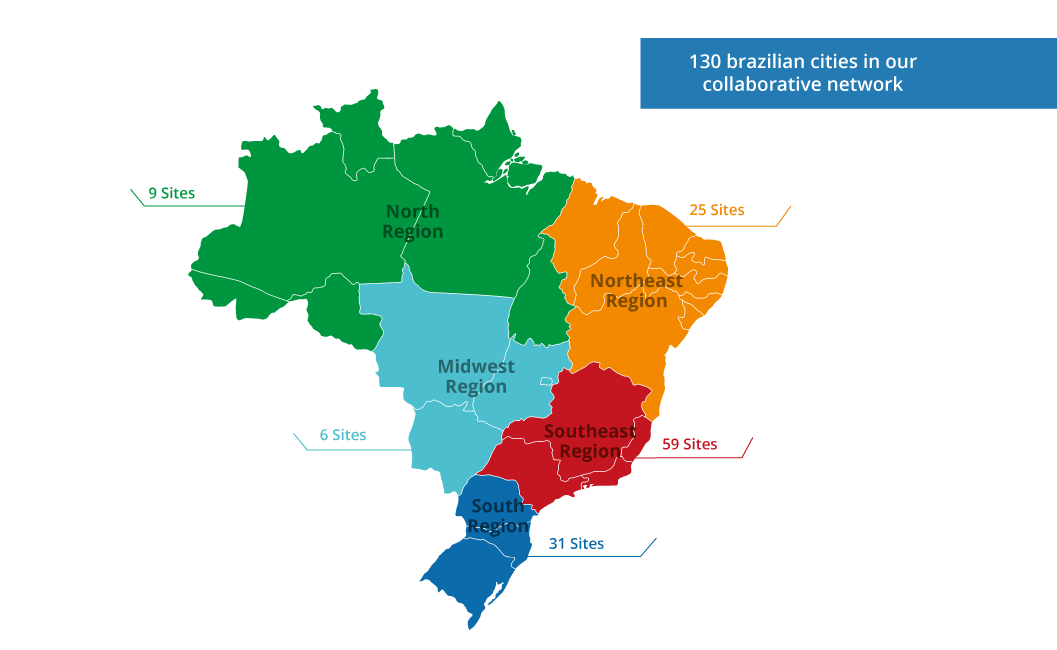 Mission, Vision and Values
Mission
To develop clinical research projects with national and international impact, to generate and apply clinical practice knowledge focusing on innovation.
Vision
To expand the academic culture through efficient operations, process innovation and collaborative network strengthening.
Values
Pioneering
Integrity
Collaboration
Innovation
HCor Research Institute Team
Research Institute CEO

Dr. Alexandre Biasi Cavalcanti – MD, PhD

Research Institute Manager

Clinical Researchers

Dr. Fernando Godinho Zampieri – MD, MHS, PhD (Coordinator)
Dr. Helio Penna Guimarães – MD, PhD
Dr. Jose Amalth do Espírito Santo – MD
Dr. Leticia Barbosa Kawano Dourado – MD, PhD
Dr. Pedro Gabriel Melo de Barros e Silva – MD, PhD
Dr. Leonardo Carvalho – MD, PhD
Dra. Aline Marcadenti de Oliveira – RD, PhD

Site Management

Denise Paisani (Coordinator)
Camila Torreglosa
Flavia Kojima
Isabella de Andrade Jesuino
Priscila Regina Torres Bueno
Rafael Marques Soares
Samara Pinheiro do Carmo Gomes
Tamiris Abait Miranda
Alline Stach de Souza
Bruna Martins Pereira Vianna
Rachel Helena Vieira Machado

Data Management

Eliana Santucci (Coordinator)
Angela Cristina Bersch Ferreira
Eliana Vieira Santucci
Bruna dos Santos Sampaio
Leila de Oliveira Silva
Lucas Martins de Lima
Viviane Bezerra Campos

Regulatory Affairs Management

Nanci Valeis (Coordinator)
Beatriz Gonzales Pacheco da Silva
Juliana Rodrigues Yamashita dos Santos
Karina Leal Negrelli

Statisticians

Lucas Petri Damiani (Coordinator)
Renato Hideo Nakagawa Santos

Administrative Secretary

Maria Conceição Tavares Gomes Kawamura

Administrative Assistants

Nicole Andrade Perez
Gabriela Vasconcelos Batista
Bruno Martins Fernandes Dias

Randomization System and e-CRF

Alessandra Akiko Kodama
Priscilla Gonçalves Rodovalho Oliveira